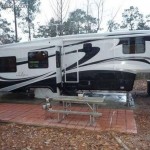 Well now this unit is just… unbelievable. You could really live in this unbelievable travel trailer year round- 38′ DRV mobile deluxe. It would even be perfect at Christmas, considering the fact that it has a fireplace!
As if that weren't amazing enough, this trailer has a washer & dryer combo, side by-side fridge and a dishwasher too. Central vacuum system? Most houses don't even have that, but this luxurious travel trailer does! All the woodwork and marble-look counter-tops make this roomy trailer a perfect place for living and gathering.
It is located in Lumberton, MS and is only $95,040. It's an amazing deal.

Other features include extra insulation and weather proofing, cedar-lined closets, entertainment center with 40″ tv and surround sound; LOTS of storage, much, much more.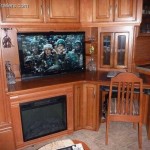 If this unit is too fancy for you (or not fancy enough, or too far away from you), have a look at all the other great travel trailers, campers & motor homes available on our site for sale- Click here!