Wow- this is one slick looking horse trailer. It's a like new, 22′ horse trailer that can carry 4 horses with ease and style. It was only used 4 times, so it's practically new. Seller is the original owner. The whole rig is bright and shiny.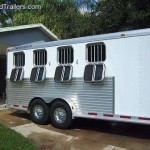 For your horse's comfort, the stalls are padded on each side. A 3/4″ rubber floor is there to keep your animals and yourself from sliding around. There are drop down feed windows with drop down bars on both head and butt side.
(4) 2-way pop up vents in roof, rear collapsible tack wall with removable/adjustable 4 saddle rack with blanket bars, 6-hook halter bar, and 2 brush trays, 20 tie rings inside, 4 tie rings outside, plus many more extras! Only $14,850. Fort Meyers, Florida
If this unit doesn't float your boat, or it isn't nearby, we have plenty of others, CLICK HERE to browse our Horse Trailer listings!