TRAILER SEARCH OPTIONS
Item No: ID-ET-504H
REDUCED!!!
2009 ECONOLINE HEAVY EQUIPMENT TRAILER!!!
Heavy Equipment tilt Trailer in like new condition. Used less than 200 miles. Black W/oak deck, spare tire, chain & binder box.
WAS: $8,700

NOW: $7,475. Athol, Idaho.
CLICK ON "DETAILS" FOR MORE PICTURES!!!
Item No: IL-DT-469H
Used Dump Trailer for sale!!
Used Dump Trailers for Sale :: Clement - 1998 CLEMENT.
Has working Tarp -
$9,350 in Chicago, IL
Item No: IL-DT-470H
1977 DORSEY Aluminum Dump Trailer!!!
26' Aluminum Dump Trailer in very good condition, air tailgate, 50% rubber & brakes, grain locks, grain door and good floor.
$13,750. Galatia, Illinois.
See what other customers are saying...
Hey there! Pick up went great!! Rosendo and his wife Veronica were very gracious. Rosendo and his son helped Steve load all the machines. All 32 were in boxes. Everything was there but a set of instructions. Rosendo is going to look for his set and fax me a copy. If he can't find it, he will call the company and get a new copy.


The entire experience of buying my new business was easy, fun, and stress free due to your hard work and caring attitude. Thank you. Now, I only hope that my business itself will be just a fun.


I'll be back in touch with you when I get these machines up and running. By then, I'll be "biting at the bit" wanting to enlarge. Of course, I wouldn't think of using anyone else but you and USEDvending.com


Thanks again, Patti
---
Dear Melissa,
Please use this as you like. It is from the heart !

"Usedvending.com was a lifesaver for me in selling my concession trailer. After trying the popular ......list for 8 months and attracting hundreds of scammers, deadbeats and people who wanted me to finance for them, I found Melissa! She helped me fine tune my ad and target the right buyers. My deal went fast, and I had my money within a week from the time the buyer first came to look ! I can't say enough about the professionalism at Usedvending.com."

Dennis Coffey, New York
Item No: IL-DT-572H
2001 - GMC Sierra 3500!!!
This diesel truck has 73,061 miles on it. 4 x 2, automatic transmission. It is in very condition, runs well and has new tires. Rear lights have been replaced since time of photo.

$15,290. Elgin, Illinois.
Item No: IL-HT-594H
2001 Circuit Champ Horse Trailer!!!
This unit is in excellent condition. Seller was easily able to pull this unit 6 cyl. Explorer. It was not used very often so it's in like new condition. It has 4 new tires with less than 500 miles. See details for more info.

$4,485. Bloomington, Illinois.
CLICK on "MORE DETAILS" for PICS & FEATURES!!!
Item No: IL-LT-595H
1987 - 38' x 8' Ground Load Cattle Trailer + International S-Model Truck!!!
This unit is in good condition. 8 ft wide 38 ft long( 8 ft cut on nose, 24 ft deck and 6 ft). Can be pulled with a single axle truck only. See details for complete description.

$10,350. Eldorado, Illinois.
CLICK on "MORE DETAILS" for PICS & FEATURES!!!
Item No: IN-HT-509H
2005 Elite 4 horse Aluminum Trailer with Living Quarters!!!!
05 Elite Aluminum 4 horse trailer with fully self contained living quarters. In Excellent Condition and only used a hand full of times. Trailer is Ramp load, with fully lined stall walls and dividers, mangers, and walk thru door to LQ area. Drop down windows with bars, and rear tack. See Details for more features.
$49,500. Springville, Indiana.
Click on "More Details" for INFO and PICS!!!
Item No: IN-HT-521H
2005 Merhow 4 Horse Slant Load Trailer with Living Quarters!!!
Trailer is 8 feet wide. 4 horse slant load with stud door, upgraded full aluminum floor, loading lights, lighted slide out saddle rack, lighted mangers, 11 foot short wall living quarters. Original owner. See details for more features.
$43,980. Laporte, Indiana.
Click "More Details" for Features and Pics!!!
Item No: IN-HT-606H
1995 - 37' Sundowner 4-Horse Trailer with Living Quarters!!!
This unit has 12' living quarters with 2 closets, full size shower, toilet & sink. Has table that converts into a bed, plus a kingsize bed in the gooseneck. Kitchen has a fridge with freezer and microwave. It can transport 4 horses and has a loading ramp and movable back tack. If purchased for the amount shown, seller will include a generator. Trailer is in good condition.

$17,600. Boonville, Indiana.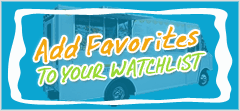 Customer Experiences
02/10/2011

Melissa was very helpful in getting my deal finalized. She even stayed after normal business hours to complete my deal. Best service anyone could ask for hands down.

Dionte'

Iowa

07/27/2011

I bought the perfect concession trailer that fit my needs through your service. Mellisa Powers was awesome awesome help. She made everything very easy and she is a pleasure to work with.
Thank you so much for a job well done.

Dan Mullin / Mullin's catering
New York

09/11/2010

Forget E-Bay, Whatshisname's list and all the rest, and dispense with the spammers, fruitcakes, and lookylou's! Don't let Melissa Power's sweet smile fool you - The woman is a pit bull when it comes to selling your merchandise!

John C. Sumter

02/15/2011

It was great to work with Melissa throughtout the process of me buying my soft serve ice cream trailer. She was very helpful and quick to respond to any questions or emails i had for her. I would definately use Melissa again in the future she made it very easy to make the transaction of my concession trailer.thanks noonans concessions

Wakefield, MA

06/04/2021

The whole process was smooth and easy, the staff was very helpful and I would not hesitate to do business with them again. 100% recommended.

Joseph Cihak,
St. Petersburg, FL
See 2,100+ more or Write your own...